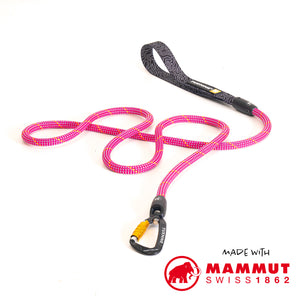 Instant Love
My Luna loves her new hot pink leash! She finds it very stylish and the secure small carabiner is quite comfortable. Highly recommended for form and functionality!!
Beautiful, functional, durable leash!
This was a perfect gift for our dog-loving friends. It is a nice upgrade from the previous version of this leash and we know it will last forever. The Mammut rope is badass and the attention to detail is next-level!
Happy customer
Well made unique designs. Just a bad ass leash.
Awesome quality!
I really love the quality of the materials used in the leashes and collars I bought! I have two Akita puppies who are about 45lbs at 4 1/2 months old, so I wanted something strong and good looking. The fact that the leashes are rebuildable is a bonus! Would highly recommend!
Always a Solid option
Quality material and great workmanship and we still use their leash we purchased a few years ago for our older Husky. As most know, huskies have pulling power for days and my original leash is still good to go, so I know it will last long and look good for yours years to come with our other Huskies.